OK, here's where my head is at now with regards to the trip in a few months. It looks like my brother will definitely be coming, but will also definitely have less time to devote to hiking than I will (plus, he's closer, so he doesn't have to make such a commitment just to get there as I do--if I'm driving all that way, I'm going to maximize what I do while I'm out west.) At the most, he'll probably want to finish up late in the week, whereas I can stay until Monday afternoon. He may end up leaving even earlier, depending on how his schedule shakes up.
Based on this, I'm now rethinking the plan yet again. The reason for this is that I want to make sure I have plenty of time to do the trip that I
most
want to do; the other trips that I had planned can wait for another opportunity, or I can squeeze them in after Samuel leaves, or something. So here's the latest plan.
Saturday:
Drive from home to North Platte, NE. This is a pretty decently long day, but I'll be ready to hit the hay fairly early after driving all day (Google Maps has this as just over 14 hours, but I'll gain an hour on the drive. Last year I made it to Grand Island NE at around 5ish and wish that I had a hotel reservation an hour or two further down the road. North Platte is about an hour and a half or so farther up I-80.) I've actually already booked (and paid for!) a place to stay in North Platte for this evening, so it's on!
Sunday:
Drive from North Platte early in the morning to Ogallala, hopefully hitting Ogallala around sun-up. Get off the Interstate and head towards Gering and Scottsbluff. This is a very pleasant drive on a nearly empty little 2-lane road. I can go see Chimney Rock (although I'll probably get there before the visitors center opens, you can still park at a little trailhead down the road from the visitors center and hike out to the rock itself. Or at least it looks like you can. I went about halfway last time, when worried about time and because I was wearing shorts through thick grass and brush, I decided to call it quits and leave. This time I'd like to get to the base of the rock itself.) Then go see Scott's Bluff National Monument again and hike to the summit. After lunch in Cheyenne, I'll get back on the Interstate until Rock Springs Wyoming, where I turn off on SR-191 and head for Vernal, passing the Flaming Gorge dam and the eastern alpine portion of the Uintas. All in all, this will be a very pleasant traveling day except for a few hours on the interstate. I'll stay at my sister-in-law and her husbands' house. Might meet my brother here, or maybe I'll meet him the next day.
Monday:
I'll need a few hours to reach the High Uintas proper and I'll probably do better if I have a somewhat relaxed first day to acclimate to the altitude as best as possible. Avoiding I-80 as much as I can, I'll turn left from SR-191 just before the unincorporated little community of Dutch John onto SR-44. In the tiny town of Manila, I'll turn on SR-43, which turns into SR-414 after crossing the Wyoming border. This will take me eventually to I-80, but not without first covering most of the distance I need to cross in a much more relaxed and scenic drive. I'll only be on I-80 for a little while before turning off on SR-150, also known as the Mirror Lake Highway. This will shortly take me back into Utah and into the heart of the Uintas. I'll probably stop at the Bear Lake ranger station, pick up the Mirror Lake use permit, drive up and down the highway stopping at scenic viewpoints, set up camp somewhere like Moosehorn or Lost Creek campground (whichever of the two I've made reservations for in advance,) then (without all our stuff) climb the trail to Bald Mountain summit. This will be a fairly leisurely day, but it should also help us get acclimated to the altitude about as easily as we can. Spend the night in one of these Mirror Lake campgrounds, probably sleeping off a migraine if past experience at throwing yourself into this altitude is any guide.
Tuesday:
Fairly early, head out and take the 27 or so mile drive on the forest service dirt roads to the East Fork Blacks Fork trailhead. From here, we'll start the epic portion of the hike; the single largest and most scenic of the trips that I have planned. I initially envisioned this as a two-night three-day jaunt, but I think that was
way
too ambitious; it really needs to be a three-night four-day hike (plus, that gives me some time to do some sight-seeing and not have to spend too much time simply getting to places). In fact, if we want to, we can even option this into a four-night five-day trip and take our time even more and sight-see even more. The first option gets us back Friday morning, the second Saturday morning. Of course, there's also time after that to do other hikes. But more on that later.
We'll need to get started relatively early, because I'd like to get to the Red Castle basin area by evening, with plenty of time to set up the tent and explore a bit before hitting the hay. We'll take the Bald Mountain trail up over the summit of gentle Bald Mountain (no relation to the
other
Bald Mountain we did on Monday) which offers a connecting trail from East Fork Blacks Fork to the East Fork Smiths Fork trail (which trailheads out of China Meadows normally.) Shortly after joining it, we'll take the Red Castle junction to the west rather than take the East Fork Smiths Fork up to the Smiths Fork Pass. Lower Red Castle Lake has a very scenic appeal to it, and no doubt we'll stop there and take some pictures and stuff, but I'd probably like to push on a little farther and camp at Red Castle or even Upper Red Castle Lakes... if there are any trees still that high (indications are that there are not, but I've heard other guys talking about camping beyond the Lower lake, so I know if can be done.)
Red Castle from near Lower Red Castle Lake
This will be a fairly long day of walking, but very scenic; we'll have to log a good 10 miles probably. Maybe a bit more. Here's one account of what we'll be doing:
http://www.utahtrails.com/Backcountry%20pages/RedCastle.html
Here's another, although ignore the second half of his trip report after the night in the Red Castle area; I'm doing something different (and more involved) to get back:
http://backcountrypost.com/threads/red-castle-little-east-fork-blacks-fork-uintas.823/
Wednesday:
Taking the un-mapped trail over the pass mentioned in both of those links above, actually, I'll join the Highline Trail early the next morning and head west, past Lambert Meadows and around Lovenia. My initial thought is that I'd go over Red Knob Pass and camp somewhere between there and Dead Horse Pass. I don't actually intend to go
over
Dead Horse Pass, but I'd love to climb to the top of it and have a good look into the Rock Creek Basin from the east, at least, before coming back down. Exactly where we camp, though, is dependent on how fast we're going and how we feel, and what the weather's like (always a potential iffy point in the mountains.) If it's too early when we reach the destination, I may turn off the Highline Trail and go into the Lovenia Basin and set up camp there. Otherwise, I'll get there early the next morning. Might bag a peak or two. "
Red Knob Pass Peak
" will certainly be conveniently close.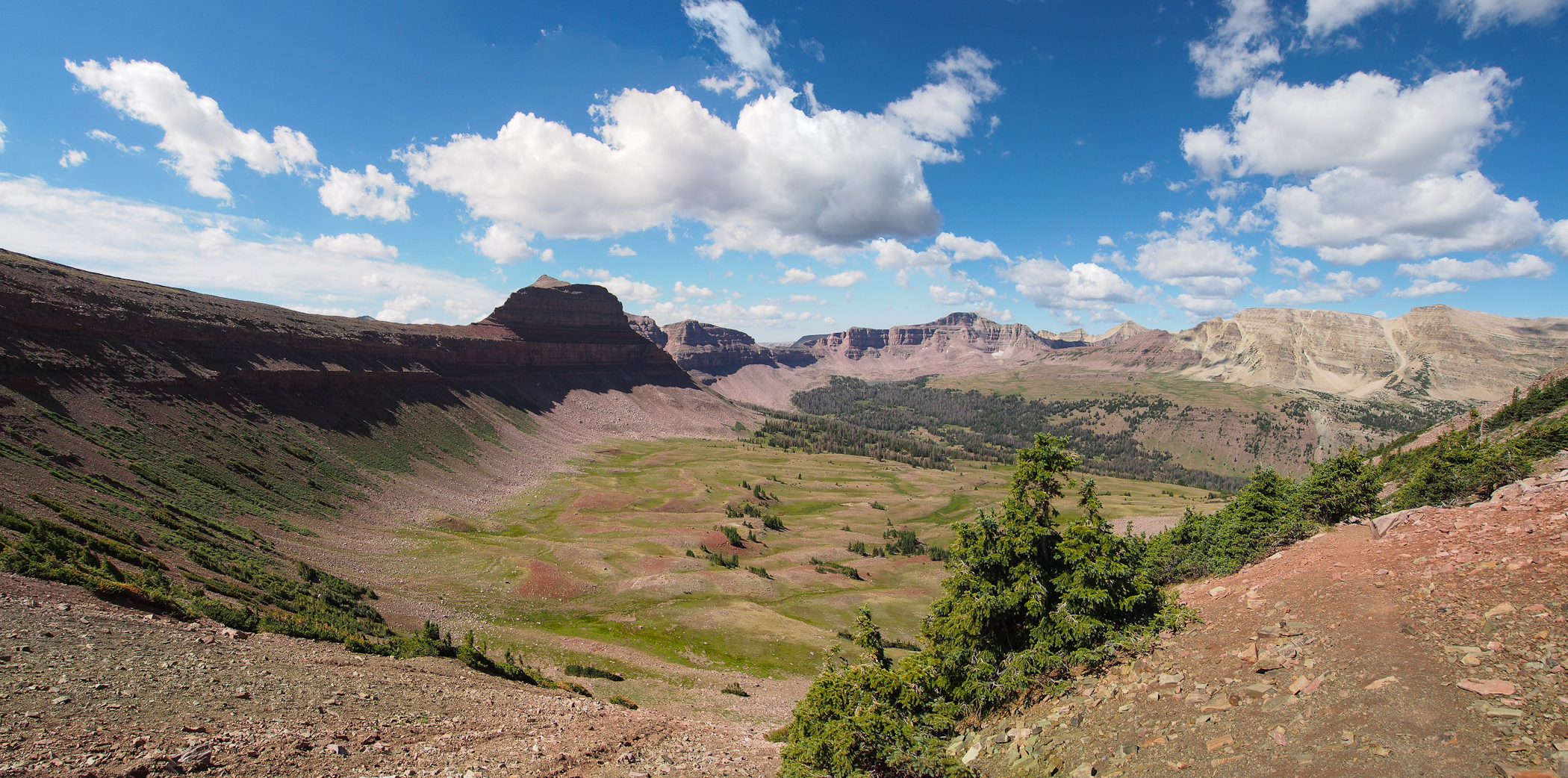 Red Knob Pass looking towards Dead Horse Pass
Thursday:
Here, I'm thinking of hiking fairly little and exploring a bit more. If I didn't already make it to Lovenia Basin on Wednesday, that will be the first priority; getting there and setting up camp. From here, I'd like to explore the area. Possibly hike up "Wasatch Benchmark" and even "NW Wasatch", check out the cirque area between the Wasatches and Tokewanna, etc. If there's still time and we have energy, we can even explore Little East Fork canyon a bit. But I don't want to promise that. Plan is we head back to the basecamp for the night.
Friday:
From here, we head back to the trailhead. It's a nice walk, but shouldn't take more than half a day, probably. Thursday and Friday will resemble
this guy's trip
quite a bit, except I have no intention of trying to summit Lovenia or East Lovenia.
There's probably still time to do something else on Friday afternoon and evening; get started on another hike, or whatever. But this depends on what my brother needs to do at this point. If he needs to head back home on Saturday, then we'll just drive to a convenient place to camp and be done for the day, other than hanging out at the campground and exploring a bit. Heck, maybe this is a good time to head back to the Mirror Lake Highway again. If he leaves on Saturday, I can explore Mount Watson and Notch Mountain on Saturday, spending Friday and Saturday night at the same campground. And if I want to save $20, I can go a mile or two up the trail from the developed campgrounds and practice "dispersed camping" instead.
The nice thing, of course, if I'm overestimating the amount of distance we can travel, then this has a fair bit of padding built in. We can stop and take it easy if we like, or we can hoof it more if we need to to make our miles. I'm assuming that the situation will resemble the former more than the latter, but you never know. We might find it harder to hike in the mountains than we think, given the elevation and the fact that we don't do this as regularly as we'd like.
Beyond:
Here's, of course, where I need to decide what to do, since I will have done the one part of the trip that I most want to. I could, for instance, do the western Uintas exploration, as described above (Mount Watson, Notch Mountain, maybe even Haystack Mountain.) If I do this, I'd stay Friday and Saturday night in this area, and then Sunday morning, I'd go do something else. In fact, if that's what I do, I'd like to head to Timpanogos in the nearby Wasatch Mountains. Start the hike on Sunday sometime and get to Emerald Lake. Set up camp there, and spend the night on Timp. Hit the summit on Monday morning before heading back to Vernal via the southern route (so I can see different scenery, at least.)
On the other hand, I could break camp on Saturday morning at head back into the High Uintas Wilderness. I have two more nights and two and a half, almost three days to kill; I could go back to Naturalist Basin and explore it better, I could go over Rocky Sea Pass and see Rock Creek Basin from the west side, or I could even come down into Allsop Basin, Amethyst Basin or Middle Basin. If I have to take Samuel somewhere away from the Uintas, maybe I should just go see something else: Goblin Valley State Park, the La Sal Scenic Loop, the Mount Nebo Scenic Byway, etc. Lots of options. It also depends, I suppose, on whether or not I'm tired of hiking and would rather do some car-sight-seeing with limited walking (and no backpack), or if I'm ready for another two-night three-day or hiking after just getting off of a three-night four day trip.

Salt Creek overlook on Nebo Loop Scenic Byway
Either way, by Monday night, I need to be back in Vernal, showering, changing and otherwise getting "finished up." And I want to have dinner at Cafe Rio, because they have really good Mexican food (my favorite variety of "ethnic" food. Unless barbecue brisket counts as "ethnic Texan" food.)
Tuesday and Wednesday, I'm driving back home. This shouldn't be difficult, but I don't really have time to do anything exciting. I lose an hour each day. The idea is to get to Omaha on Tuesday, so I can have a somewhat shorter day on Wednesday. Thursday bright and early (or at least some time in the morning) I have to be back at work, so I don't want to arrive too late on Wednesday back at home. Plus, after a week and a half, it'll be good to see the family again, show them my pictures and talk them through my trip.