I've whipped up what is perhaps a more realistic approach to my southern Wind Rivers loop. I had gotten too excited, I think, and added too many scenic side trips and "excursions" and generally just had too many miles per day. This is not uncommon for early in my planning phase, although I also tend in real life to cut
back
too much and be disappointed that I gave up and did less than I originally planned. This route splits the difference somewhat. Cut back from 80 miles on my feet to 55 (61 if I do the optional Temple excursion, but back down in the low 50s if my shortcut from the upper East Fork Basin to the Baptiste Basin is actually doable) I'll no doubt miss a few things... but overall, I think this is still a very challenging yet more enjoyable expectation. I often forget in my urge to see every corner of the area I'm hiking in that death marches aren't very fun. Here's the new itinerary, as planned at least. I expect again that I'll drive Saturday and Sunday of whatever week I take this trip, and spend the night Sunday night at the Big Sandy TH and campground so I can start my hike right away on Monday morning. If I fly, that could change slightly.
Day 1:
(Monday). Big Sandy Trailhead up the Fremont Trail. I've put my Night 1 tent marker between Skull Lake and Pyramid Lake. Actually, the way I've drawn the route, I turn east to go off-trail up the East Fork Valley
before
getting to Pyramid Lake, but I honestly don't care which way it goes. The reason I picked that was to avoid gaining elevation that I'm simply going to lose again shortly. Camping anywhere between Skull Lake and Pyramid Lake, including the Mays Lake near the fork would all be fine (not named in some layer presets.)
Skull Lake at sunset
Day 2:
(Tuesday). Take up camp, go cross-country through the East Fork Valley, and take one of the two passes into the Bonneville Lakes area. The one to the east is the one the Wind River High Route uses, so I know for sure that it's doable; the other one just looks like it is. Although I've drawn this as a bit of a loop or lollipop, I really don't have a problem with coming and going on the same track up this valley. If I get to my campsite early enough, which is the plan, and assuming the weather is good, I can go up (without my pack) over the other small pass to Donna Lake and admire the bizarrely shaped Pronghorn Peak. Otherwise, I can do it the next morning.
Pronghorn Peak and Donna lake
I may, actually, want to put my tent a little further downhill from the Bonneville Lakes, in the trees. This means a bit more uphill to get back up from my campsite, but camping in the trees is almost always preferable to camping on the rocks or the tundra. And it's only a couple thousand feet to the trees from the east edge of the Bonneville Lakes anyway.
Day 3:
(Wednesday). Especially assuming that I went and saw Pronghorn Peak on Tuesday afternoon or evening, then this is mostly just a day to keep moving. Pack up camp, backtrack through the East Fork Valley, and go over Hailey Pass to Baptiste Lake. This is only about 10 miles, but there's a fair bit of elevation gain and loss, so it could be a hard day, maybe. I'd love to get to Baptiste Lake early enough to spend the evening poking around the Baptiste cirque and basin a bit before nightfall, looking at the immense granite nearly 2,000 foot tall north face of Mount Hooker. If not, there'll be at least
some
time in the morning.
Mount Hooker
If the Blue shortcut route is actually doable, I've actually got plenty of time, because that will cut a good 7-8 miles or so of walking off my route for the day, which quite honestly is freakin' huge. But you never know about that kind of thing; just because a route looks doable on a topo map doesn't mean that it is in reality. Moving it around in 3D view on Google Earth looks a bit more iffy, especially with a pack on your back.
Day 4:
(Thursday). This is a relatively short day, where I just have to leave the Baptiste Basin, ring the north shore of Grave Lake and set up camp somewhere in Ranger Park (presumably near Valentine Lake, but if I feel like it, I can set up anywhere in the area near a creek, stream or other lake. They're all close to each other.) Having a short and relatively flat day midway through the trip means I can take it easy and recover before I have to do a few more interesting days before finishing. It would also give me opportunity to explore a bit if I feel like doing that.
Valentine Lake
Day 5:
(Friday). Coming in to Cirque of the Towers via the Lizard Head route from the north has me continuing to gain some elevation to get up on the flanks of Cathedral Peak before hiking across the tundra until dropping rather precipitously into Lizard Head Meadows. In theory, I could stop here at Papoose Lake or somesuch—a beautifully scenic place in its own right—but it's only ten miles to get all the way to Lonesome Lake, which I'd rather do. I
definitely
want some time to explore the Cirque of the Towers basin, but I think some time this afternoon/evening, and maybe an hour or two in the morning of the next day would be perfect.
Cirque of the Towers
Day 6:
(Saturday). In the original plan, I just hike up over Jackass pass and back to the car. If I do this, I've certainly got plenty of time to explore the cirque before worrying too hard about it. But I'd like to add the optional little extra day and see one more area, which means I need to have camp up and moving by mid-morning. The optional route takes a fork at Big Sandy Lake and explores the east side of Schiester Peak for a few miles. Most importantly, it goes by Clear Lake and Deep Lake with their fabulous views of East Temple and the Steeple, before climbing up to Temple Lake and heading back to Big Sandy Lake on the other side of the point 10,980 ridge. I'd make camp one more time up in the Temple area before coming back to the car on Sunday morning in this plan.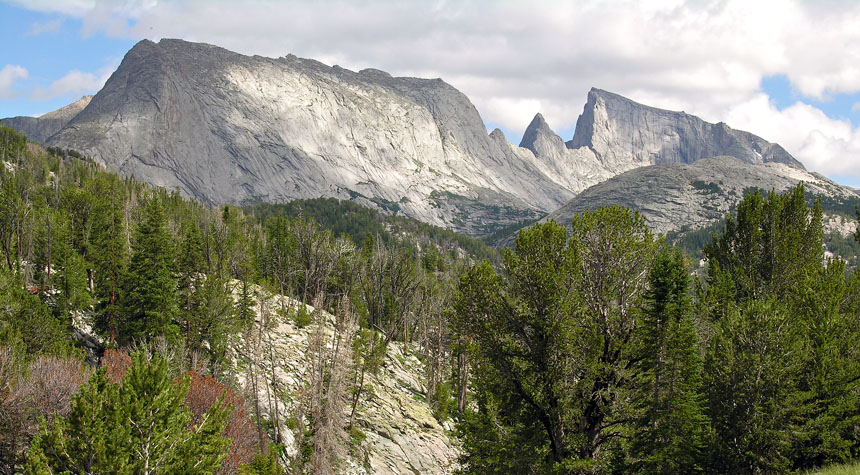 L to R: Haystack, the Steeple, East Temple. Temple is just to the right of this shot.
Day 7:
(Sunday). Assuming that I'm still "out" then this is the day I come back to the car from the Temple area, probably getting there by noon or so; plenty of time to get to a hotel, clean up, change into some clean clothes, eat some real food, and get a good night's sleep before driving back home Monday and Tuesday. Total time away from home: 11 days (including 4 weekend days); total days of vacation I have to spend: 7. Again; flying can take at
least
two days off, although with the logistics of renting a car and getting to Big Sandy and back, it may not realistically be more than that.
What I like about this itinerary:
It's no more stretched out that my other one, but by dropping a lot of the weird out and back spurs and exploration (which I
will
miss, no doubt) I'll end up keeping my miles down to a manageable 10 or less per day (except for the first day, but I'll be fresh then, and it's also pretty flat.) I'll still need to make sure that I continue the training regime that I've started already to be ready for it, because at altitude and with a fair bit of elevation gain and loss, 10 miles a day is quite a bit more than 10 miles here at what is only a couple hundred feet or so above sea level on a flat sidewalk or gravel trail. I think of 10 miles as no big deal, but on rough trails, or even cross country, ranging up and down from just over 9,000 feet to right at 12,000 feet on my shortcut pass, it's quite a bit harder. I tried to keep big elevation gain days down in mileage; Day 2 and Day 5 have the biggest elevation gains, but I'm coming and going over passes many of the days.
I still see most of what I really want to see, even though I had to drop a few minor side trips. I still see the East Fork Valley. I actually added the Bonneville Lakes and Donna Lake stuff, because I hadn't realized that I was so close, and I think it's a shame to miss it if I'm literally right there. I still see Mount Hooker and the Baptiste Basin, and I still see Ranger Park, the Lizard Head approach and of course, the Cirque of the Towers; the
real
headliner attraction in the area. I've also added the East Temple stuff, after realizing that I can do that fairly easily too (although it'll mean another night in a tent).
What I don't like about this itinerary:
I don't really like traveling or hiking so much on Sundays. I'd prefer to take a break and go to church. Maybe I'll actually have time to stop by a ward in Wyoming or Nebraska sometime for at least Sacrament Meeting without it putting me too far behind schedule on the way to the Wind Rivers. However, given my distance and the time involved to get to the area, it's probably a necessity that I use that time so I don't have to use extra vacation days to do the trip.
I also think that this may be pretty close to the limit of how long I could possibly want to be out in one trip. No matter how interested I am in seeing the Temple area, by the time I've already spent 5 nights in a tent, I may be more interested in being done than in seeing one more area, no matter how scenic and spectacular. Well, if so, I have that option; I can come straight from Jackass Pass to the car and skip the Temple area altogether, cut my trip one day short and still feel good about having done a challenging 55+ mile hike in some of the most beautiful country that we've got in America.